Trinley Nyingpo Online Weekend Retreat with Lama Tenzin Sangpo
Weekend Retreat with Lama Tenzin Sangpo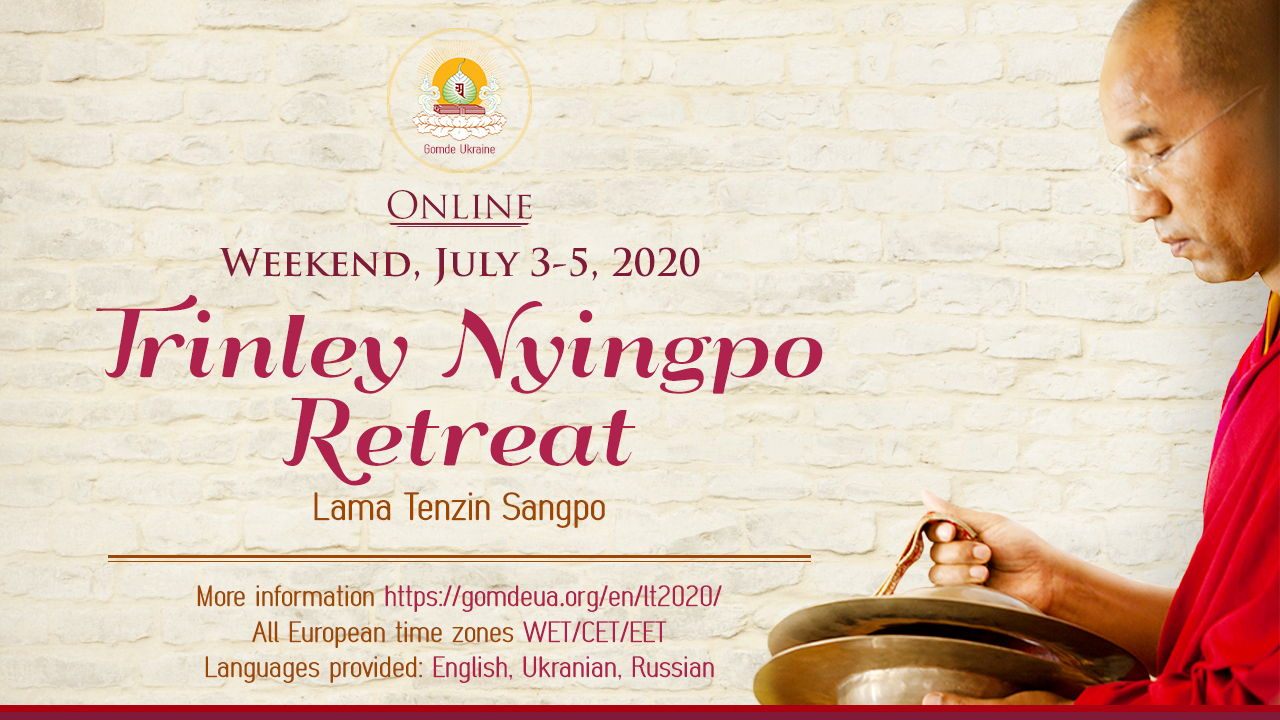 What to expect
This online weekend retreat offers the opportunity to join a group retreat with Lama Tenzin, right from your own home! This way you have the advantage of a private retreat setting, as well as the benefit of practicing in a group and receiving the guidance of a Lama.
Beginners can become familiar with a retreat schedule and structure; more advanced practitioners can deepen their retreat experience.
The basic structure and time schedule will be according to our retreat tradition.
We will provide practice material in 3 languages, including sadhana texts, videos for download, Zoom video streams for group practices, and Zoom live teaching sessions with Lama Tenzin.
Who can participate
This retreat is for anyone who received the Tukdrub Barchey Kunsel empowerment (Wang) or took part in a Ngakso Drubchen, as well as for those who intend to receive this empowerment in the future.
However, since this weekend retreat has a schedule of 6 sessions per day (4 sessions of practice and 2 sessions of teachings), we would recommend that only those who already have some experience with this sadhana join the retreat.
About the Sadhana
Trinley Nyingpo is a special yoga taught by Guru Rinpoche Padmasambhava to eliminate all outer, inner, and secret obstacles on the path of Dharma practice. This practice is part of Chokgyur Lingpa's Treasure Cycle Guru's Heart Practice that Dispels all Obstacles.
Retreat Schedule
Download Schedule https://gomdeua.org/wp-content/uploads/2020/06/Colours-Retreat-Schedule-1.jpg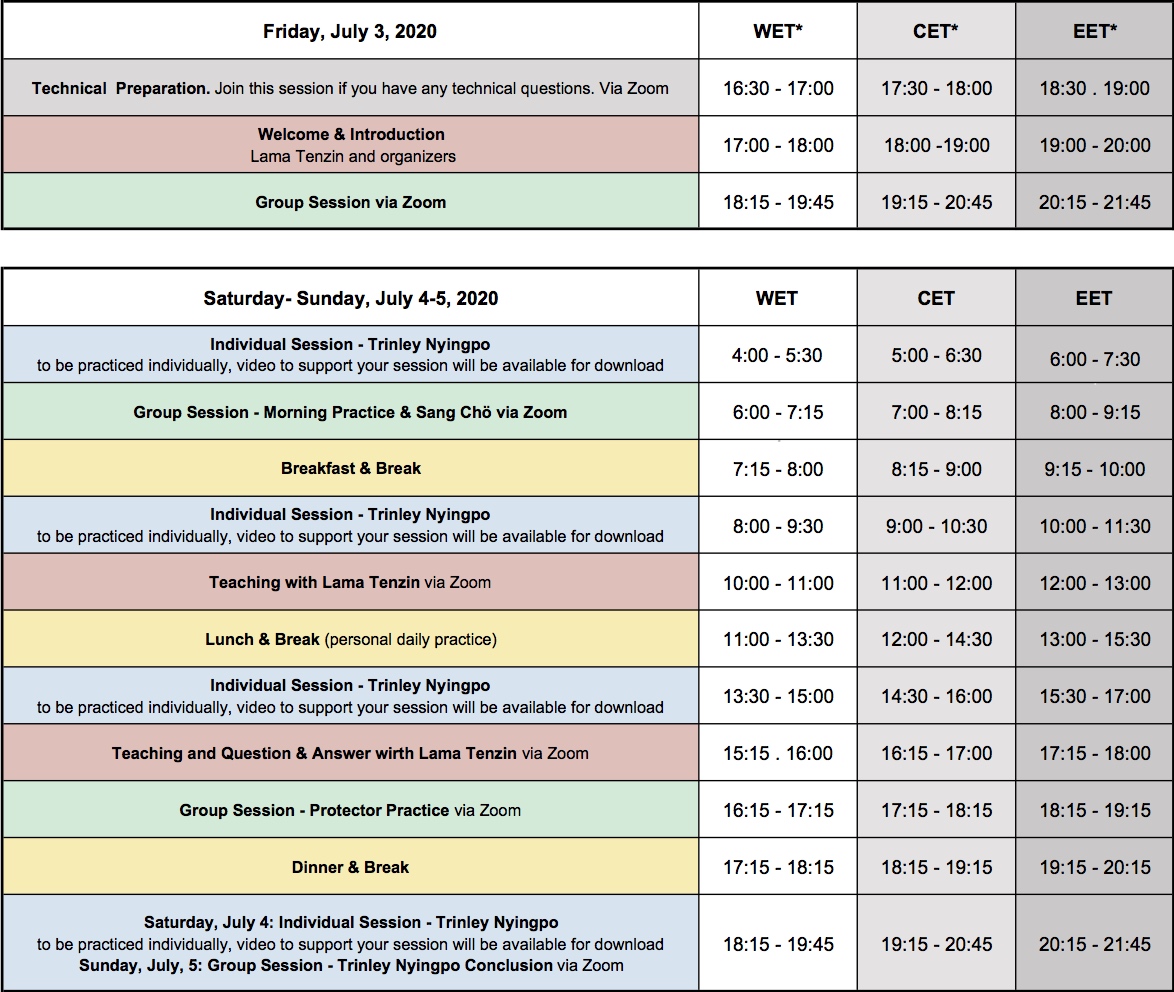 *Western, Central and Eastern European Time Zones https://www.timetemperature.com/europe/europe_time_zones.shtml
You are welcome to do your personal daily practice during your lunch break. Alternatively, you may substitute one of the individual Trinley Nyingpo sessions with your personal daily practice.
Ritual

As this is a short retreat geared towards beginners, the focus is practicing with your mind rather than doing all rituals exactly according to tradition. Therefore, if you know how to do the rituals such as opening the shrine, and so forth, you are welcome to do them; however, if you don't, please do not worry – just focus on the visualizations, recitations, and a relaxed and kind mind.
Registration

Please, register by latest June 30, 2020 here: https://forms.gle/7ziJ6EyJc7TNQdHUA
By completing the registration form, you are committing to participation in all retreat sessions, and agreeing to not record the Zoom videos nor to share texts, images, and videos.
All material and Zoom links will be shared with the participants after registration, by June 30 on the latest. You will need to install Zoom on your mobile phone or PC: https://zoom.us/download
Donation
You are welcome to donate any amount you wish via this link: https://www.liqpay.ua/en/checkout/card/i74404396394
You can transfer your donation via provided link in your bank account currency, you also might need to confirm the transaction in your client-bank service in case of certain default security settings restrict your transaction.
In case you have any questions,  please do not hesitate and contact us via info@gomdeua.org