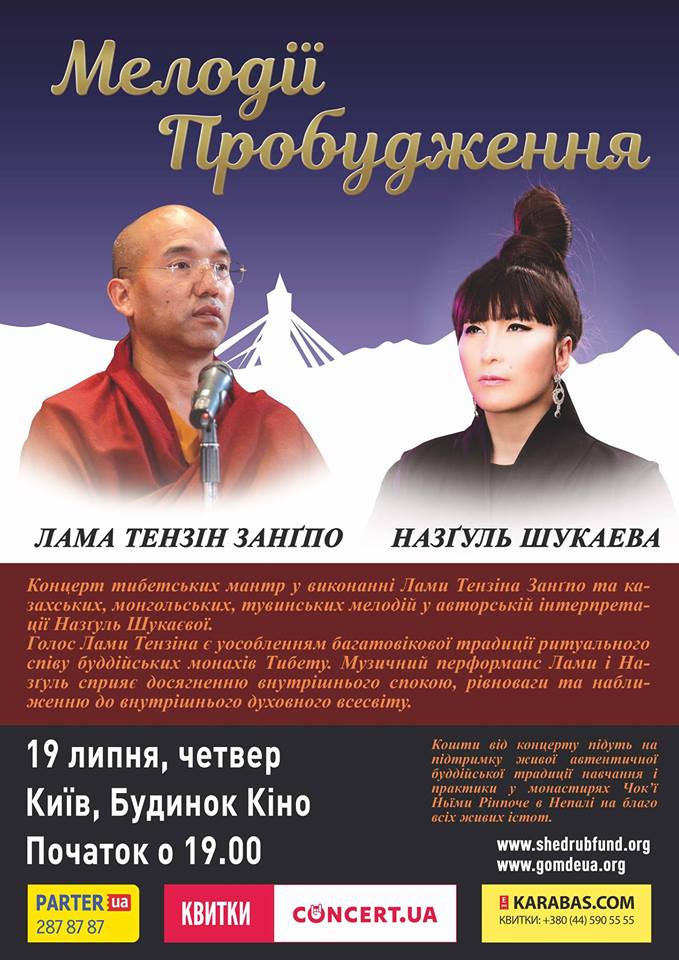 We heartily invite you to visit the unique concert of Tibetan mantras performed by Lama Tenzin Sangpo, as well as Kazakh, Mongolian, Tuvan melodies in the interpretation of Nazgul Shukaeva.
The voice of Lama Tenzin embodies the centuries-old tradition of the Tibetan Buddhist monks' ritual singing. The musical performance of Lama Tenzin and Nazgul will create a state of inner calm and balance for the listeners, thus bringing them closer to their spiritual universe.
July 19, 2018, Thursday
Kyiv, The House of Cinema
Start at 19.00
All the profits from the ticket sales will be directed to support the living authentic Buddhist tradition of teaching and practice for the benefit of all living beings in the monasteries of Chokyi Nyima Rinpoche in Nepal.
Every year Lama Tenzin conducts numerous seminars and concerts all around the world, sharing his precious instructions with the students. As a performer of the Tibetan mantras Lama Tenzin was recognized in many countries due to the unique timbre of his voice, which, in combination with his worldview, expressively conveys the deep essence of Buddha's teachings.
Nazgul Shukaeva is a singer who has skillfully mastered a variety of vocal techniques, including shamanic technique of throat singing, that originated in ancient times at present-day land of Kazakhstan. During her musical performances Nazgul creates a special ambience, which engages her audience in self-discovery and thereby helps to open the listener's own original purity and harmony.