ESSENTIAL INSTRUCTIONS OF PADMASAMBHAVA
ESSENTIAL INSTRUCTIONS OF PADMASAMBHAVA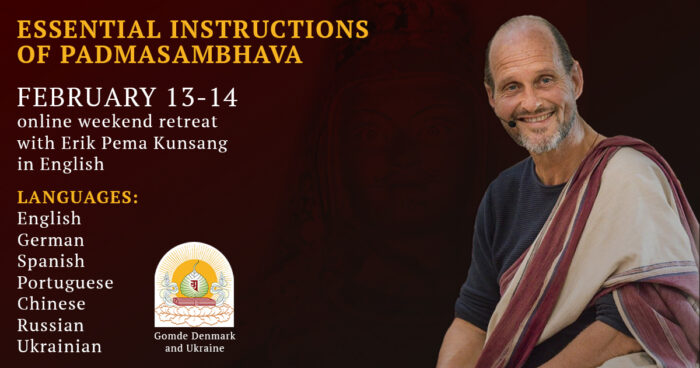 February 13th-14th, online weekend retreat with Erik Pema Kunsang, in English. Languages: English, German, Spanish, Portuguese, Chinese, Russian, Ukrainian
What to expect
This online retreat offers a great opportunity to receive and apply the extremely precious meditation instructions from one of the greatest master Padmasambhava. This precious guidance will be shared by Erik Pema Kunsang, student of Tulku Urgyen Rinpoche and Chokyi Nyima Rinpoche.
The retreat will take place on the weekend of February 13th -14th. Participants will receive teachings online during the morning sessions, and then put these instructions into practice during individual offline sessions after lunch.
Erik Pema Kunsang
An outstanding translator of Dharma, Erik Pema Kunsang is also a yogi meditator, therefore Chokyi Nyima Rinpoche has encouraged him to share his knowledge and experience. When teaching meditation, Erik focuses on a simple and natural presence that helps people to explore their mind and its intrinsic freedom. The simple way of being present allows such qualities as compassion, love, and wisdom to unfold in a most natural way.
Here is an archive with some of Erik Pema Kunsang's writings: http://levekunst.com/author/admin/
Who can participate
This retreat is for those who already have some meditation practice experience, as well as for beginners interested in exploring meditation. To take part in this retreat, one needs to register and commit to attending the teaching sessions (for those in distant time zones – watch the video recording of these sessions), and practice all of the individual meditation sessions offline.
Schedule
February 13

Time

CET (GMT+1)
EET (GMT+2)

Teaching session with Erik Pema Kunsang, online

10:00-12:00
11:00-13:00
Individual session 1, offline. Train in instructions.
15:00-16:00
16:00-17:00
Individual session 2, offline. Train instructions.
16:30-17:30
17:30-18:30

February 14

Teaching session with Erik Pema Kunsang, online.
10:00-12:00
11:00-13:00
Individual session 3, offline. Train instructions.
15:00-16:00
16:00-17:00
Individual session 4 offline. Train instructions.
16:30-17:30
17:30-18:30

Connecting online
All teaching sessions are organized in a webinar, in which up to 1000 participants can see and hear only the main speaker and their language interpreter. A link to join the webinar will be sent by emails registered participants a few days before the retreat.
For those in other time zones
All registered participants will be able to view and download the videos of the teaching sessions. Therefore,  if your time zone is too far from GMT+2, you can use the video recordings of the sessions and structure your retreat accordingly. The link to watch and download the videos will be sent to all registered participants via email. The videos will be uploaded to the linked folder one to two hours after the session is finished. These recordings will be accessible online until March 1, 2021.
Registration
Please register by February 12th, 2021 by filling out this form: https://forms.gle/Wjmd2QNMzWzVG88LA
By submitting this form, you commit to participate in all retreat sessions.
Zoom instructions and a link to join the webinar will be shared with the registered participants via email a few days before the retreat starts. For better Zoom video and audio quality, please, check if you have the latest Zoom app version, or just reinstall the app on your computer or smartphone: https://zoom.us/download
Registration fee
We encourage you to make a donation of any amount you wish to support Erik Pema Kunsang, Gomde Ukraine and Gomde Denmark (who jointly organized these events), your interpreter, and any gomde center you are connected to. Your kind donations can be sent to one or more of the suggested accounts:
Erik Pema Kunsang's PayPal: rangjung@gmail.com
Gomde Denmark: English  http://gomde.dk/23/donations Danish http://gomde.dk/73/donationer
Gomde Ukraine via this link: https://gomdeua.org/en/donation/
Support International Gomde Centers https://gomde.org/contribute
Accounts for donation to interpreters will be provided to the registrants via email.
In case you have any questions, please do not hesitate and contact us via
info@gomdeua.org